Just founded in 2018, RootQuotient is a tech firm partner perfect for startups and enterprises looking to innovate. Focusing on mobile app development and custom software development, we also work a little in web development. We're focused on working with mid-sized businesses but are able to adapt to businesses of any size. We are so excited to be named a 2020 Clutch Leader!
Clutch is a B2B platform located in Washington, D.C which brings businesses together. Clutch's team conducts phone interviews with past clients of service providers and publishes them on company profiles to be used as a resource for future clients. Each company is then compared against others in the same industry and placed on a "Leaders Matrix". RootQuotient has earned the #3 spot of mobile app development companies in Montreal.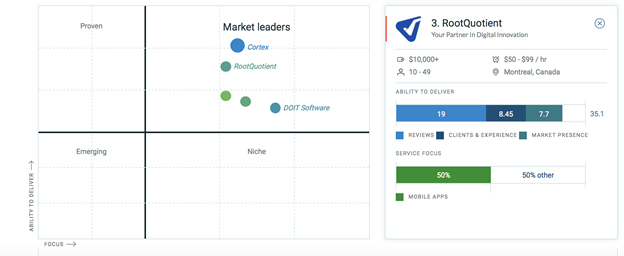 As well as Clutch's original site, they now have two sister sites: The Manifest and Visual Objects. The Manifest is a company resource, how-to guide resource, and source of industry news. Each profile on The Manifest highlights a past project, helping show prospective clients how they deal with real-life business issues. Visual Objects highlights RootQuotient as a leading company in the creative field. Our digital portfolio is shown here!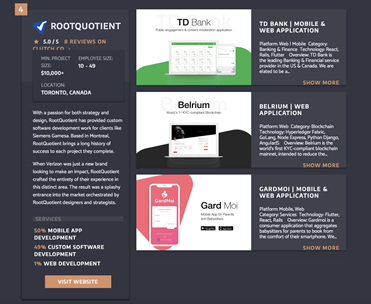 "We feel pleased to get recognized for our services and chosen as one of the Top B2B Companies in Canada. We thank Clutch for always being supportive in connecting us with the right prospects."

CEO, Rootquotient

Contact us for your app development needs.